Knoten für weites Kettenmaterial - Knots for wide Chain Material
Wenn Kettenglieder zu weit sind, kann die durchgeflochtene Kette durchrutschen und die Schlaufe weiter werden.
If the chain link are too wide the threaded chain can be pulled back through the link and the loop become wider and wider.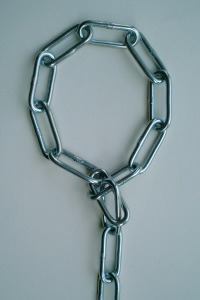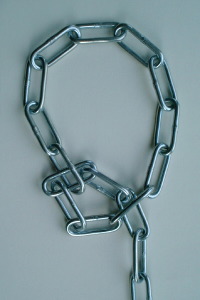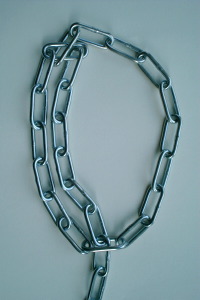 Diese hier abgebildete Kette ist nicht zu weit und rutscht nicht durch, aber ich habe mal simuliert, wie es denn bei einer Kette aussähe, die für den Standardknoten zu weit wäre. Man sieht, wie die Schlaufe weiter und weiter werden kann.
The chain pictured above ist not too wide and does not slip through, nevertheless I have simulated what could happen with a chain that were too wide for the standard knot to be used reliably. One may appreciate how the loop is getting wider and wider.
---
Eine Möglichkeit ist der Dreierknoten, weil hier nicht nur zweimal, sondern dreimal gefädelt wird.
One possibility is the triple knot where one has to thread not only twice but three times.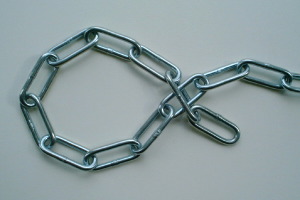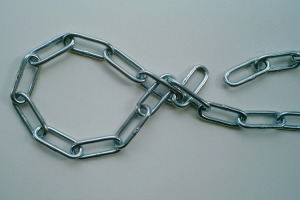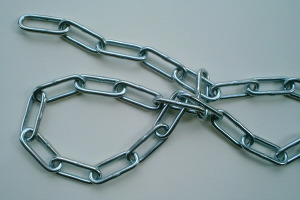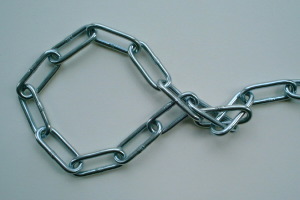 Als vorgeschalteter Schritt wird zuerst die Kette durch das vorletzte Kettenglied gefädelt, dies ist auf dem Photo oben links zu sehen. Dann geht es weiter wie beim Standardknoten, dessen Hinzufügung die weiteren drei Photos zeigen.
There is one preceding step. The chain is threaded through the second but last chain link. This you can see on the top left photo. After that it is the standard knot that is added on top and the remaining three photos show various stages of it.
---
Ein andere Variante ist die Ergänzung des Standardknotens mit dem Stopknoten (Zeichnung links), dessen Verdickung verhindert, dass man eine damit versehene Kette durch ein Kettenglied ziehen kann. Er ähnelt sehr stark dem Verbindungsknoten (Zeichnung rechts), nur daß beim Stopknoten nur ein und keine zwei Kettenstücke verwendet werden.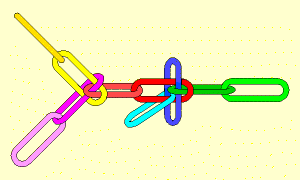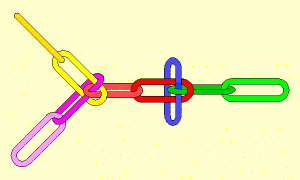 Alternatively one can supplement the standard knot with the stop knot. This knot is very similar to the connecting knot (shown in the drawing above right) the only difference being that for the stop knot one knots together two parts of the same chain. This thickening of the chain prevents it to be pulled through a link.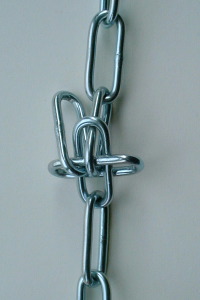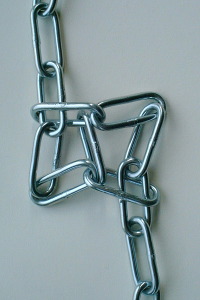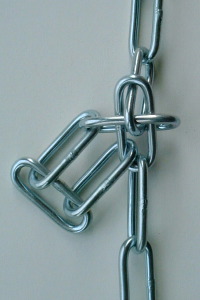 Die beiden zu verknotenden Kettenteile müssen mindestens ein Kettenglied dazwischen haben. Wie auf dem mittleren Photo zu sehen, ist der Knoten symmetrisch und kann von beiden Seiten entflochten werden.
There has to be at least one intermediate chain link between the two chain parts that are knotted together. The middle photo is showing the symmetric nature of the knot after a little bit of tugging, thus the knot can be undone from either side.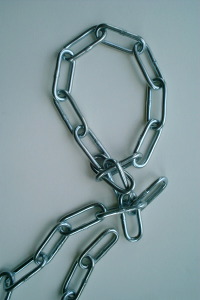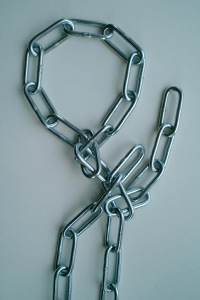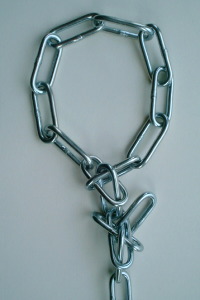 Hier wird der Stopknoten im freien Kettenstück direkt am Standardknoten plaziert, damit läßt sich die Kette nicht zurückziehen, um die Schlaufe weiter zu kriegen.
Here the stop knot is placed on the free chain part directly adjacent to the standard knot. Thus there is no length of chain available that could be pulled back for wideing the loop.

Standardknoten - Standard Knot Home Page
Kettenmaterial - Chain Material
Kettenbeschaffung - Chain Procurement
Knotenvarianten - Knot Variations
Knoten für weites Kettenmaterial - Knots for wide Chain Material
Detailfotos - Photos of some Details
Zusammenfassung - Digest Page
Ketten weiten - Widening Chains
Fotos gesicherter Handgelenke - Photos of Secured Wrists
Fotos gesicherter Fußgelenke - Photos of Secured Ankles
Blumentopfaufhängung - Flowerpot Suspension
Beitrag von Shevette - Shevette Contribution
Fotos Kettenkrawatte - Chain Necktie Photos
Fotos Taillengürtel - Waist Belt Photos
Fotos Gürtelkombination - Belt Combination Photos
Messe-Bekanntschaft - Fair Acquaintance
Weite feinjustieren - Fine-Adjusting Width