Fotos Kettenkrawatte - Chain Necktie Photos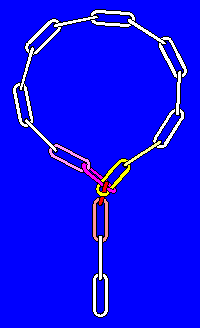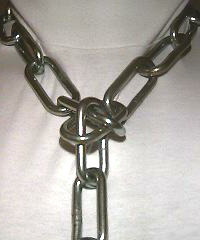 Auf den Fotos ist der Krawattenknoten, also der Standardknoten, nun wirklich in echt zu sehen. Noch einmal die Bitte um Vorsicht, die Schlaufe von Anfang an nicht zu eng vorzusehen, da nach dem Verknoten die Schlaufe nicht geweitet werden kann, und der Hals ein empfindliches Körperteil ist. Im Gegensatz zu normalen Krawatten strafft man damit nicht den Hemdenkragen, da man die Größe des Seidenteils noch während des Tragens korrigieren kann.
The photos show the necktie knot as the standard knot now really being used for a chain necktie. Once more this word of caution about giving it sufficient slack from the very beginning as you cannot widen it once the knot is produced, especially as a neck is a rather delicate part. Unlike the usual necktie this it not intended to tighten your shirt collar; the size of the silk thing can still be adjusted while wearing it.
Andererseits sollte die Schlaufe nun eng genug sein, um sie nicht über den Kopf abstreifen zu können, sonst würde es ja keinen richtigen Sinn machen.
Well, on the other hand the loop should be tight enough so you cannot slip it over your head, otherwise there would not be much of a point.
Auf dem rechten Foto kommt das Kettenende von rechts oben, und die linke Kette ist von oben nach unten durch das letzte Kettenglied gefädelt. Weiter bilden die drei engbeieinanderliegenden Kettenglieder eine kleine Pyramide, und aus Komfortgründen sollte deren Spitze vom Körper weg zeigen.
On the right photo you see the end of chain coming from the right, and the left chain which has been threaded to pass from above downwards through this link. You also notice that the three chain links in close contact do form a little tripod, and for comfort reasons it is important that the tip of it points away from your body.
Die um den Hals herumlaufende Schlaufe sollte nicht verdrillt sein, sonst wird es halt weniger bequem. Auf der Abbildung links ist die Kettenschlaufe natürlich korrekt dargestellt.
And for the loop running round your neck take care not to twist this part of chain. It is becoming less comfortable otherwise. In the drawing to the left the chain loop is ok, of course.

---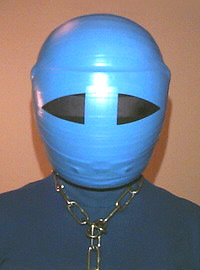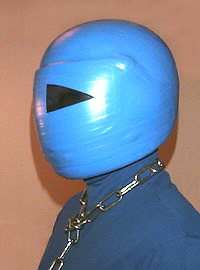 Die zwei Fotos zeigen den stolzen Träger dieses strapazierfähigen Kleidungsstückes. Warum der Kopfputz? Nun ja, um sicherzugehen, keinerlei Nacktheit darzustellen, etwas, was mein geliebter erster Provider Geocities nun überhaupt nicht mochte, zeige ich überhaupt kein Stückchen an Haut auf diesen Fotos. In dieser seltsamen Welt gibt es Leute mit seltsamen Definitionen (welche ich nicht teile) auf der Suche nach Opfern, und ich möchte ihnen nicht anheimfallen.
The two photos show the proud wearer of such a heavy duty piece of clothing. Why the head gear? Well, playing it safe I hide any and every portion of skin from view as to avoid anything which one might call nudity, something my dear first host Geocities told me to keep off his site. There are some strange people out there in the world with sometimes strange definitions (which I do not share) looking for game. I do not want to be their prey.
Wie auch immer, es paßt doch zur übrigen Bekleidung, und ich kann berichten, daß es auch über längere Zeit getragen werden kann. Ich meine natürlich die Krawatte. Zu empfehlen ist, die Kette nicht direkt auf der Haut zu haben und auch das webführende Kettenstück auf der Vorderseite zu positionieren.
Anyway, you see it looks nicely with the other pieces of clothing, and I can tell you it is sufficiently comfortable to wear not only for short periods. Of course I mean wearing the necktie. It helps not to have the chain directly on the skin, and to have the piece of chain running off connecting to the loop around the neck on the front side.

---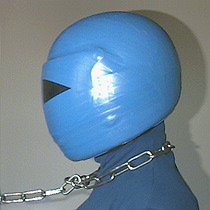 Und man kann immer noch einen Teil des Kettengewichts abfangen, indem man die Kette an einem hochgelegenen Punkt befestigt. Es ist immer gut, sich der Lokalität angemessen zu kleiden, und gut in Verbindung dazu zu stehen.
And there is still the possibility to take some of the chain weight off the neck in attaching the chain at a point above the ground. You know, it is always good to know the place for which you dress, to have some connection with this spot.
Aber achten sie in jedem Fall darauf, daß die Situation bequem bleibt. Eine nur davonlaufende Kette ist dies, diese soll aber nicht permanent unter Zug stehen. Ich empfehle genug Länge, damit man einen komportablen Ort ausuchen kann und die Kette dann lose herumliegt, solange sie beachten, wo ihr Platz ist.
But in any case try to keep your situation comfortable. A chain simply running elsewhere is, but the chain should not be pulled tight permanently.I recommend enough chain length so you can find your comfy position with the chain loosely lying around, as long as you do not try to get beyond your allowed range.

Standardknoten - Standard Knot Home Page
Kettenmaterial - Chain Material
Kettenbeschaffung - Chain Procurement
Knotenvarianten - Knot Variations
Knoten für weites Kettenmaterial - Knots for wide Chain Material
Detailfotos - Photos of some Details
Zusammenfassung - Digest Page
Ketten weiten - Widening Chains
Fotos gesicherter Handgelenke - Photos of Secured Wrists
Fotos gesicherter Fußgelenke - Photos of Secured Ankles
Blumentopfaufhängung - Flowerpot Suspension
Beitrag von Shevette - Shevette Contribution
Fotos Kettenkrawatte - Chain Necktie Photos
Fotos Taillengürtel - Waist Belt Photos
Fotos Gürtelkombination - Belt Combination Photos
Messe-Bekanntschaft - Fair Acquaintance
Weite feinjustieren - Fine-Adjusting Width