Weite feinjustieren - Fine-Adjusting Width
Manchmal reicht es nicht aus, die Kettenlänge oder den Schlaufenumfang um die diskrete Länge eines Kettengliedes zu verändern. Kleinere Längenänderungen sind möglich, wie im folgenden an ein paar Beispielen gezeigt wird. Die Bruchzahlen geben für die gezeigte Beispielkette die Längenänderung gemessen in Kettengliedlänge an.
Sometimes it is not sufficient to adjust chain or loop length by integer multiples of a chain link length. Smaller changes in length are possible indeed as shown below in a few examples. The fractions show the changes in chain length for the shown chain sample in units of the chain link length.
---
Eine laufende Kette kann man etwas kürzen, indem man eine zweite Kette auf ein Kettenglied draufsetzt. -1/8
A continuous chain may be shortened in putting a second chain onto a chain link. -1/8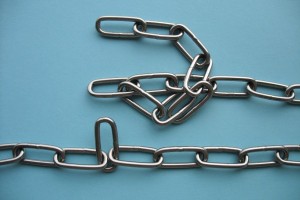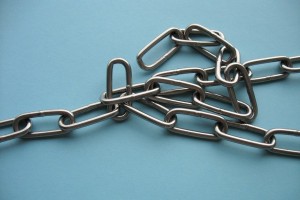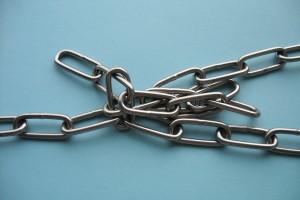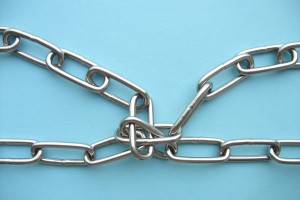 ---
Eine laufende Kette kann man etwas verlängern, indem man eine zweite Kette ansteckt.
One may lengthen the spacing of a chain in connecting a second chain to it.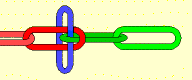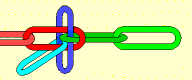 Dies verlängert um +1/3, und in der Variante des rechten Bildes kann dies auch mit einer Kette alleine erreicht werden, man beachte hierzu das hellblaue Kettenglied.
This lengthens the chain link stepping by +1/3 and indeed one can achieve this with one chain only as shown on the right image. Please pay special attention to the chain link shown in light blue.
---
Einen Knoten kann man um -1/8 verkürzen, indem man zwei Kettenglieder auf das durchzusteckende Kettenglied aufsetzt. Man erreicht -1/8.
A chain knot may be shortened in threading two chain links onto the chain end, achieving -1/8.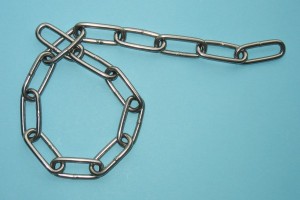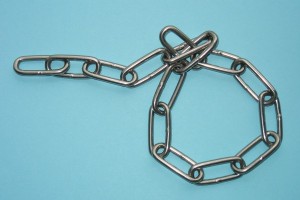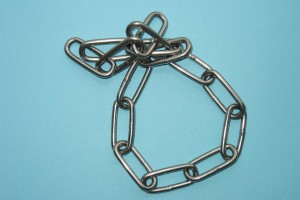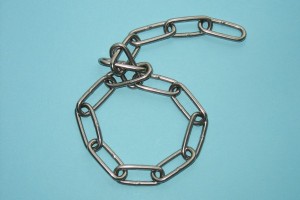 Interessanterweise macht es kaum einen Unterschied in der Länge, ob man zwei oder drei Kettenglieder auffädelt, die Verkürzung fällt gleich gering aus.
Interestingly there is barely a difference in threading two or three chain links, one achieves pretty much the same small shortening.
---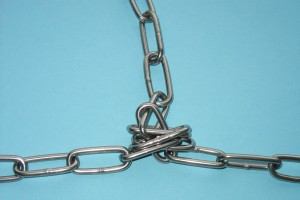 Erst mit vier Kettengliedern schafft man eine weitere Verkürzung, im Vergleich zum normalen Kettenknoten von -2/7.
Only in using four chain links one achieves more shortening, compared to the standard chain knot this is -2/7.

---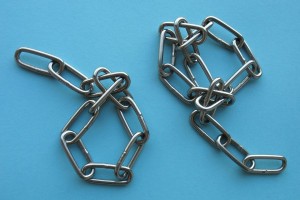 Natürlich kann man bei einer Schlaufe auch die freilaufende Kette verkürzen und nicht am Kettenknoten agieren, wie das mit der rechten Schlaufe im Bild gemacht worden ist.
Obviously one may shorten the free running chain of a loop and not act on the knot itself, as shown on the right loop of the image at the side.

---
Standardknoten - Standard Knot Home Page
Kettenmaterial - Chain Material
Kettenbeschaffung - Chain Procurement
Knotenvarianten - Knot Variations
Knoten für weites Kettenmaterial - Knots for wide Chain Material
Detailfotos - Photos of some Details
Zusammenfassung - Digest Page
Ketten weiten - Widening Chains
Fotos gesicherter Handgelenke - Photos of Secured Wrists
Fotos gesicherter Fußgelenke - Photos of Secured Ankles
Blumentopfaufhängung - Flowerpot Suspension
Beitrag von Shevette - Shevette Contribution
Fotos Kettenkrawatte - Chain Necktie Photos
Fotos Taillengürtel - Waist Belt Photos
Fotos Gürtelkombination - Belt Combination Photos
Messe-Bekanntschaft - Fair Acquaintance
Weite feinjustieren - Fine-Adjusting Width