Ketten weiten - Widening Chains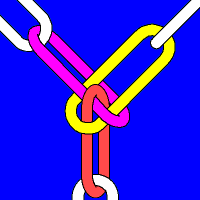 Zu den Kettenknoten möchte ich doch noch auf eine Modifikation der Ketten hinweisen. Indem ich die Endglieder von Ketten geweitet habe, laesst es sich viel einfacher flechten.
Regarding the chain knots I want to point to a modification to the chains. In widening the end links chains threads much more easily.
Auf passender Unterlage hatte ich einen Körner jeweils nahe den Rundungen angesetzt und mit einem Fäustel gut und mehrmals draufgehauen. Wichtig war, nicht in der Mitte zu weiten, weil sonst aus dem Oval eine Art Raute geworden waere.
For a start I used a centre punch on a suitable base and placing it into the opening ends hit it with a hammer several times to reach the desired diameter. One better not places the centre punch in the middle otherwise the oval shape would distort into a diamond like chain link shape.
---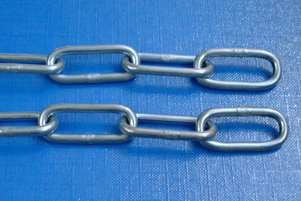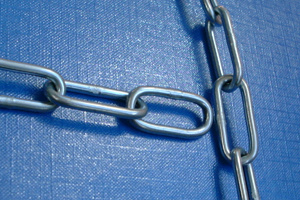 Gut ist auf beiden Photos zu sehen, daß das Endglied deutlich geweitet wurde. Zwar ist die Innenweite noch nicht ganz gleich der Aussenweite eines normalen Binnenkettengliedes, aber dennoch läßt sich es viel einfacher fädeln, und nur wenn ein Kettenglied genau senkrecht ankommt, kann es mal ein bisschen klemmen, wenn das Kettenglied nicht weiß, ob es sich nun nach links oder nach rechts beiseitedrehen soll.
One can clearly see that the end chain link has been widened considerably. The inner width is not yet equal to the outer width of an intermediate chain link, but already like this it is much easier to thread the chain. Only if a chain link arrives at exactly right angle one may get stuck a little as the link is undecided whether to rotate right or left to squeeze through.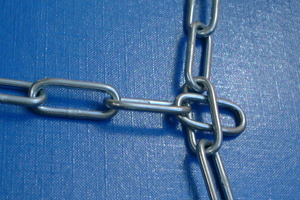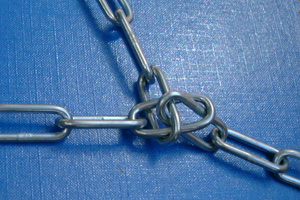 Dies ist jetzt das normale Knoten, also geweitetes Kettenglied von links durchstecken und dann das nach unten führende Kettenstück durch die Öffnung fädeln.
This is the standard knot. Insert the widened chain link from the left and then thread the length of chain that points downwards.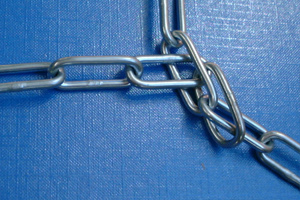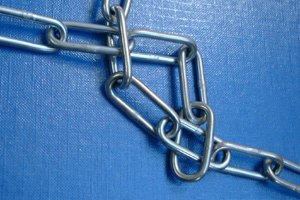 Wenn man die Ketten etwas loser hat, kann man den Kettenknoten zu derartigem weiten. Diese Schlaufen schrumpfen aber unter Belastung meistens, je nachdem, woran man jeweils zieht.
In situations where there is less pull on the chains one can transform the chain knot into this shape. Usually this mini-loops shrink again somewhat dependent on what chain end is pulled.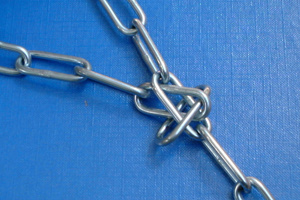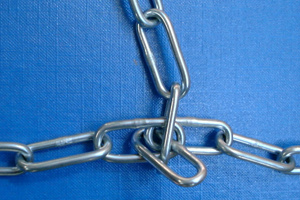 Das ist nach wie vor der Kettenknoten, was auf dem linken Photo zu sehen ist, jetzt ist aber die durchlaufende Ketten komplett gestreckt. Das geweitete Endglied hängt etwas lose herum und weil es absteht, ist es manchmal auch im Wege.

Despite the through running chain now being completely straight this still is a genuine standard knot. As the widened end chain link is dangling somewhat loosely it is sometime getting into the way.

Auf dem rechten Photo sieht man, warum die mittleren Kettenglieder nicht geweitet werden sollen. Hier habe ich versucht, das geweitete Kettenglied wieder nach links herauszuziehen. Weiter als auf dem Photo gezeigt ging das allerdings nicht.

The right photo shows why the middle chain links ought not to be widened. In this photo I tried to pull the widened chain link out again to the left, but I did not succeed beyond the configuration shown on the photo.

Was Wäre aber wenn... das mittlere Kettenglied weiter waere?
Ganz frei würde man das Endglied am Kettenstück von links nicht bekommen, aber man könnte es weiter nach links zurückziehen und es würde sich mit der Kette von rechts eine Schlaufe nach links bilden.

Falls die Ketten nach links und oben Teil einer Schlaufe wären, könnte man die Schlaufenweite beliebig grösser machen, solange von rechts freie Kette vorhanden wäre. Dann hätten wir ein Problem, da ja meistens eine solche Schlaufe ja nicht größer werden soll...

aber das Kettenglied auf dem Bild ist ja nach wie vor eng genug, um dies zu verhindern.

Für Ketten, die zu weit sind, sind Dreierknoten oder der zusätzliche Stopknoten auf einer extra Seite beschrieben.

For the case of chains being too wide the triple knot and the anxillary stop knot are described on an extra page.

Zum Schluß möchte ich noch erwähnen, daß im Falle eines Kettentyps nach dem Weiten der Endglieder die Kettenknoten nicht mehr durchfädelsicher waren. Bei 3mm Drahtdurchmesser und 6.5mm Innendurchmesser war die Kette allerdings schon vorher am Rande der Spezifikationen, allerdings gerade noch sicher.

At the end of this page I want to mention that in one singular case the chain knots turned unreliable with regarding to a maximum loop diameter after widening (only) the end links. With a wire thickness of 3mm and an inner chain link diameter of 6.5mm the ratio was already borderline before but without widening just on the secure side.




Standardknoten - Standard Knot Home Page
Kettenmaterial - Chain Material
Kettenbeschaffung - Chain Procurement
Knotenvarianten - Knot Variations
Knoten für weites Kettenmaterial - Knots for wide Chain Material
Detailfotos - Photos of some Details
Zusammenfassung - Digest Page
Ketten weiten - Widening Chains
Fotos gesicherter Handgelenke - Photos of Secured Wrists
Fotos gesicherter Fußgelenke - Photos of Secured Ankles
Blumentopfaufhängung - Flowerpot Suspension
Beitrag von Shevette - Shevette Contribution
Fotos Kettenkrawatte - Chain Necktie Photos
Fotos Taillengürtel - Waist Belt Photos
Fotos Gürtelkombination - Belt Combination Photos
Messe-Bekanntschaft - Fair Acquaintance
Weite feinjustieren - Fine-Adjusting Width