Beitrag von - shevette - Contribution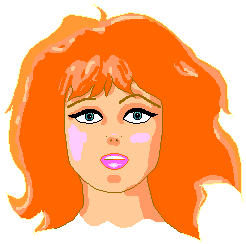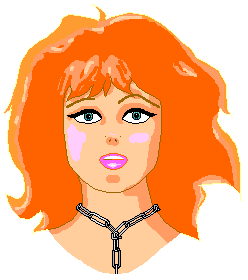 Some time ago I had come across shevette's website. First I was only browsing the texts going together with these cute imag Then, revisiting her pages another time, I dared to ask her for a drawing I'd like to use on my own pages here.
Reading all about how busy she is, I was not really sure whether I could even expect to receive an answer. You know some people do not bother. But - she answered and there were even these drawings below attached to her e-mail reply.
Can I reciprocate? At least I tried in modifying a drawing of her. Guess which is the original one . . .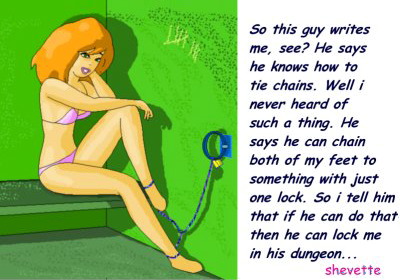 Well, it was a pleasure for me to kindly show shevette how to tie or knot these chains together. Perhaps she should have brought some longer chains with her, but no, she wanted to know immediately. Well, I thought I better comply and show her this technique right away, although it is a little tight, but only to my opinion.
Somehow she did not manage to get hold of more chains in the meantime. There are so much more things I could show her with more chain around, and I'm sure she would have enjoyed it.
I think she deserves a little rest by now, and by the way, has anyone seen the padlock key???

Anyway, I think I'll get her a warm blanket for the night. And perhaps some paper and pens. She can do such lovely drawings, and I think I'll go and have another look at her beautiful and interesting web pages.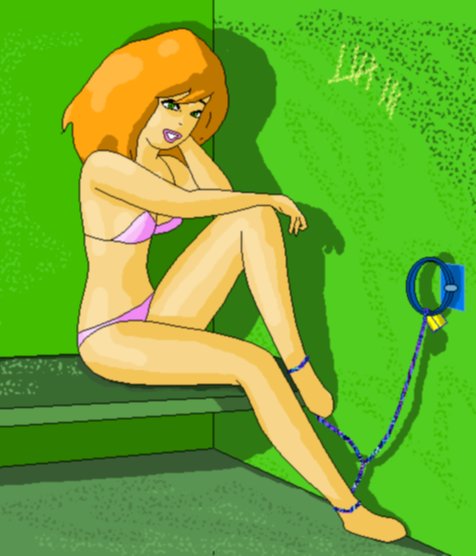 Sleep well and nice dreams . . .
One shevette website and another shevette website here.
Standardknoten - Standard Knot Home Page
Kettenmaterial - Chain Material
Kettenbeschaffung - Chain Procurement
Knotenvarianten - Knot Variations
Knoten für weites Kettenmaterial - Knots for wide Chain Material
Detailfotos - Photos of some Details
Zusammenfassung - Digest Page
Ketten weiten - Widening Chains
Fotos gesicherter Handgelenke - Photos of Secured Wrists
Fotos gesicherter Fußgelenke - Photos of Secured Ankles
Blumentopfaufhängung - Flowerpot Suspension
Beitrag von Shevette - Shevette Contribution
Fotos Kettenkrawatte - Chain Necktie Photos
Fotos Taillengürtel - Waist Belt Photos
Fotos Gürtelkombination - Belt Combination Photos
Messe-Bekanntschaft - Fair Acquaintance
Weite feinjustieren - Fine-Adjusting Width