Messe-Photos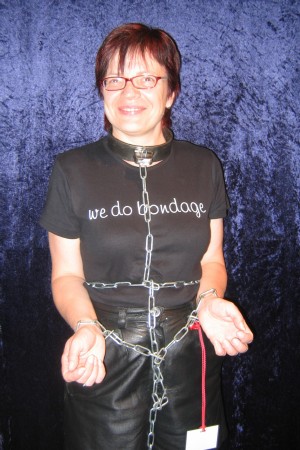 War das ein Glücksfall, diese Bekanntschaft auf der Messe vor einer Weile. Und sie wollte unbedingt mal wissen, ob das mit dem Kettenflechten in der Praxis auch wirklich funktionieren würde. Ich äußerte meine vorsichtige Bitte um ein paar Brosamen, ähm Fotos fürs Kettenflechen. Wir wurden uns handelseinig, jeder bekam das, was er gern wollte.

I consider myself lucky with this exhibition fair acquaintance some time ago. She was really eager to see whether this chain weaving would really work out in practice. I shyly mentioned my desire for some small pickings, errm photos for my chain weaving web site. Deal done, everyone got what was desired.

Schauen wir uns rechts ein paar Details an. Der Halsreif ist strenggenommen kein Kettenflechten, aber er integriert sich auch farblich ohne Probleme und paßt zur Philosophie des Kettenflechtens. Rechts sieht man, wie die sich beim Schließen übereinanderschiebenden Laschen mit einer durchgesteckten Kette gesichert werden, an deren Ende eine Scheibe angeschweißt ist. Das ist heute, damals auf der Messe mußte ich noch ohne Scheibe improvisieren.

Let's have a look at some of the details to the right. Adopting a strict view the neck ring would not be considered part of chain weaving, but on top of matching colours it nicely integrates into the whole system and in particular adheres to the chain weaving philosophy. To the right one sees how the chain threads through the overlapping tongues of the ring, and a disc being properly welded to the end of the chains. At the time of the encounter I still had to improvise without such disc.

Beim Handgelenk sieht man die Durchfädelrichtung nach außen, damit beim Zug nach vorn sich die Kettenspitze nicht eingräbt. Im Bild rechts daneben ist der untere Kettenknoten normal. Der obere Knoten ist nur brauchbar, weil beide Kettenstränge abknicken, die Halsreifkette von oben nach links, die Fußkette von unten nach rechts, um dann hinten in Kreuz zusammengefädelt zu werden (für den üblicheren Fall sich kreuzender Ketten wird eine Knotenvariante empfohlen).

The threading direction for the wrist is to the outside to prevent a chain dip digging into the skin. On the far right photo the lower knot is standard, the upper knot with four chain lengths connecting to it is only usable as both chains involded take a turn, from above to left and from below to right. Both chains run around the waist and connect in the back (for the more usual case of crossing chains one of these knot variations is recommended).

Bei den Fußgelenken ist wieder die Beachtung einer komfortablen Fädelrichtung in Lastrichtung zu sehen, von unten nach oben.

And one can see that the threading direction conforming to the load vector has been observed for the ankles as well.

---


Das ganze Geflecht erlaubt nicht nur eine bequeme stehende Positur, man kann auch damit herumlaufen, ein bißchen Schreibkram erledigen und sich gepflegt unterhalten. Und damit man nicht andauernd in der Nase herumpopelt, können die Handgelenke nützlicherweise nur auf Bauchhöhe angehoben werden. Daß man dann auch nicht mehr so richtig kicken kann, ist ein unwesentlicher Nebeneffekt. Auf dem rechten Bild sieht man noch zwischen den Beinen das von der Taille herunterbaumelnde zur Schlaufe geknotete Kettenende.
Not only does all this weaving allow for a comfortable upright posture, one can also walk, do a little bit of paper shuffling and engage in conversation in style. And in order not to finger all the time in the nose the wrists can only be lifted waist hight. Being unable to kick is a minor side effect, barely worth mentioning. On the right photo in between the legs on sees the chain dangling from the rear of the waist having been put in the shape of a loop.

---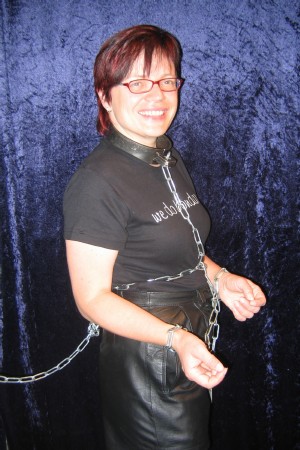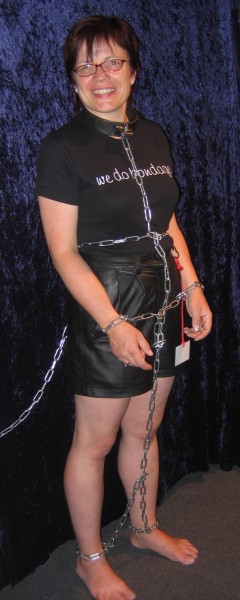 Nachdem sich ein netter Mitmensch nun um dieses Kettenende kümmert, darf sich meine Bekanntschaft nun gänzlich gesichert fühlen. Wie schon mehrfach auf den hiesigen Seiten ausgeführt, reicht dieses eine Kettenende zur kompletten Sicherung des gesamten Geflechtes aus. Insbesondere war bei der Aktion kein Vorhängeschloß vonnöten. Werte Frau, vielen Dank für die Fotos und das Probetragen, und keine Ursache wegen dem bißchen Flechten, das war kein allzugroßer Aufwand..
A pleasant fellow has been found, and my acquaintance may now feel completely secure. It has been mentioned several times on these pages, one chain end is sufficient to to keep all this weaving from being undone. In particular during this demonstration there was no need for a padlock. Fair woman, thank you so much for the photo opportunity and the test wearing, and don't worry about this little bit of weaving, this was no effort at all.

Standardknoten - Standard Knot Home Page
Kettenmaterial - Chain Material
Kettenbeschaffung - Chain Procurement
Knotenvarianten - Knot Variations
Knoten für weites Kettenmaterial - Knots for wide Chain Material
Detailfotos - Photos of some Details
Zusammenfassung - Digest Page
Ketten weiten - Widening Chains
Fotos gesicherter Handgelenke - Photos of Secured Wrists
Fotos gesicherter Fußgelenke - Photos of Secured Ankles
Blumentopfaufhängung - Flowerpot Suspension
Beitrag von Shevette - Shevette Contribution
Fotos Kettenkrawatte - Chain Necktie Photos
Fotos Taillengürtel - Waist Belt Photos
Fotos Gürtelkombination - Belt Combination Photos
Messe-Bekanntschaft - Fair Acquaintance
Weite feinjustieren - Fine-Adjusting Width